How to provide world-class EMS in telecom, industrial IoT and techmed
Date of publication:
09.07.2021
Read the interview with our CEO, Bartosz Kajut and our General Manager, Włodzimierz Babś where they share the story of VECTOR BLUE HUB and explain the unique concept of keeping design and manufacturing services under one roof.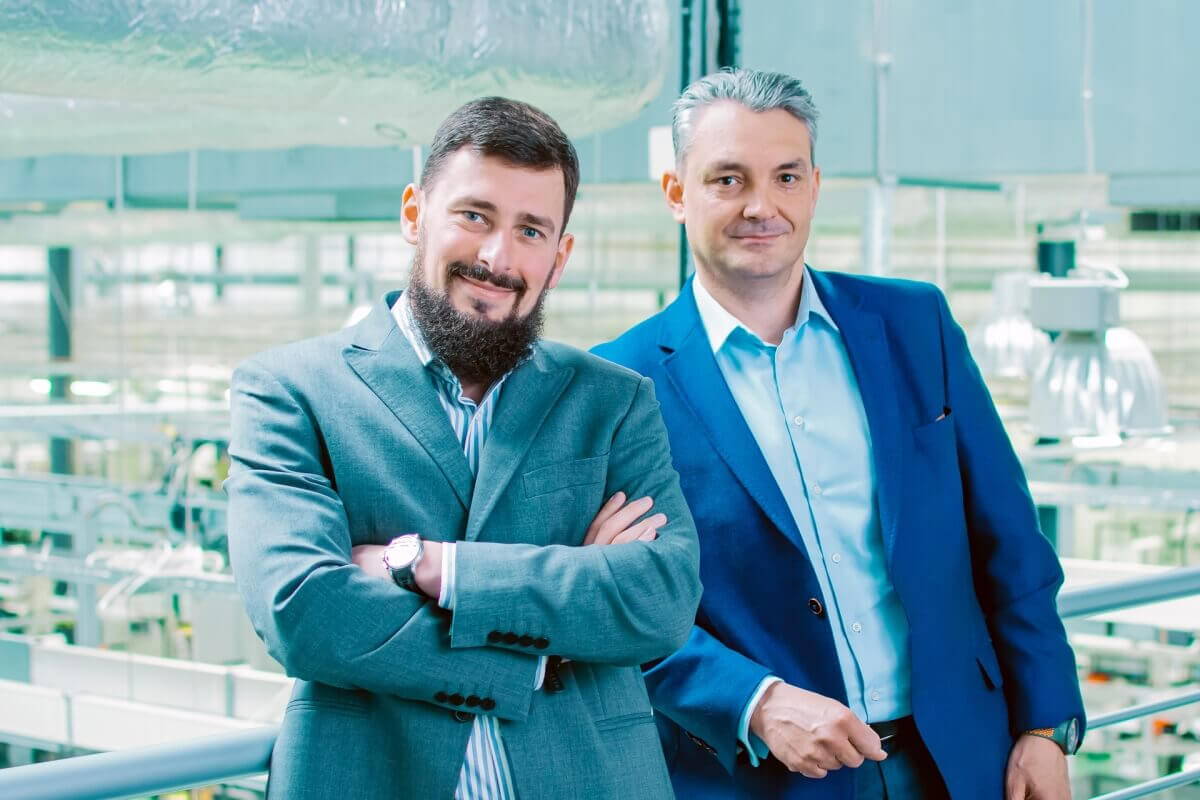 Bartosz Kajut, CEO and Włodzimierz Babś, General Manager
The VECTOR Group has such a long history that in my memory it is a manufacturer of telecommunications equipment. But maybe this categorisation, which I date back to over a decade, is no longer valid?
Today, we are a completely different company than we were ten years ago. In 2016, we decided to break down the most important business divisions into separate brands, as the company became simply too large and its internal structure was too complex to be managed in an effective way.
In addition, business divisions became substantively distant to the extent that our development objectives related to the distribution, production, integration and service sections often ceased to converge. The decision regarding the division was also determined by the expectations of our customers, who come from different market segments, which varies their technical and organisational requirements.
The division of the company into smaller parts has accelerated the development of autonomous companies whose competencies respond to differing market needs because it has enhanced and boosted our organisation. Before the division, the company's revenues were close to PLN 100 million a year, now they are to the order of PLN 180 million, which is almost twice as high, which confirms that we took the best possible decision to scale our business.
But where did the idea to engage in electronics manufacturing services (EMS) activities under VECTOR BLUE HUB come from? This actually thematically deviates from the consistent model of the company related to telecommunications.
First of all, the VECTOR Group has for a long time evolved towards a service company specialising in the integration of systems. The production of electronic devices on behalf of third parties, both large and medium-sized, has accompanied us for a long time, even before the division of the company into a group of subsidiaries. We have implemented many international original equipment manufacturer (OEM) projects for Tier 1 companies such as, among many, Motorola, Arris, and Cisco. We were manufacturing and designing circuit boards for them, provide surface mount services and rapid prototyping for big data devices, box build and then also certifying products, thanks to which we have gained competence in the areas of technology and learned the specificity of working with the best companies in the market.
Curious about how to optimize Total Cost of Ownership (TCO)?
Get a free TCO analysis! Fill the form and we will contact you within 48 hours
Maintaining such competencies within a company requires experienced engineering personnel. A large team of qualified designers is expensive for the company, so the team must have enough number of tasks to perform. Therefore, the idea of opening up to customers from other industries than those we already know made sense. In addition, the demand for manufacturing in our company has gradually started to decrease because there is an increasing competitive pressure in terms of standard products from the companies of the Far East. Moreover, due to commoditisation, the demand for specialist solutions, meaning those which could also be produced in our company, is also slowly decreasing.
Since we had a group of designers and printed circuit board assembly (PCBA) engineers who were able to create devices for leading foreign telecom operators, it became natural to open up to electronics manufacturing services (EMS) and, as I mentioned earlier, as part of a separate VECTOR BLUE HUB company.

VECTOR has a multi-dimensional approach to business - and not only in the economic context; that is why it has been decided to further develop our engineers' competences to other specialisations. At the time of entry into the market, VECTOR BLUE HUB employed dozens of engineers and had two complete production lines at their disposal. For more than 30 years, we have delivered advanced electronics-based devices to the largest players in the telecommunications market. Today, the experience in designing and volume manufacturing digital and analogue wireless communications systems allows us to take a comprehensive approach to issues such as prototyping, laboratory testing, and mechanical engineering.

The electronics manufacturing services market in Poland is quite full, and I understand that it was the design competence that has became the source of your advantage in the market?
There are not a lot of electronics contract manufacturing companies in Poland with personnel having 20 years of experience in the design of devices, and I think we stand out in this respect. We are not a typical design house nor a classic contract production company, but we represent the "under one roof" concept, which means that we provide both design services and serial production services. Thus, design competence, collectively referred to as Design For Excellence (DfX), will definitely be used by us, otherwise we would have to operate in a very competitive market with more than a hundred other EMS providers. Meanwhile, design and manufacturing are both equally important to us, so we can implement the selected phases of projects simultaneously, guaranteeing a fast and efficient time to market.
This all, of course, within our telecommunications, industrial IoT (Internet of things) and medical sector specialisations. In fact, EMS companies that have such a broad set of services are few and far between, which provides our customers with one very important value – one partner moving in different segments of the EMS market that will fully serve their needs. This also features buying components and managing the warehouse and other common conveniences for the client related to the supply chain and logistics.
What is your idea for competing in the market with companies that also design and produce?
Focusing on design competencies and on the chosen specialisation also resulted from the previous experiences of many employees of the VECTOR Group who had previously worked in EMS companies or used production services of this type. They knew common industry problems and issues that were not well served. This knowledge could be used to come out in the market with an expected service.
For example, large EMS companies rarely used to offer design services because they had no staff able to efficiently implement equipment projects without increasing the business risk. Thus, design and production under one roof is still a rare thing in the EMS market.
The second typical inconvenience is the lack of specialisation. Many of such companies say that they can do anything. In our opinion, however, the broader the scope of service or the more we go beyond laying components on the board, the greater the need for specialisation. As a result, project orders are taken by companies without sufficient competence and in practice they learn simply for the customer's money. Further issues that we believe often require improvement and allow to make a distinction between a typical and a good company are the superficiality of customer service. It comes down to an expectation of receiving complete documentation which will answer all the questions related to production.
In the meantime, today's customers expect support in product development, suggestions for improvement and support of changes and periodic upgrades. They often have a problem that they want to solve using the competencies of an EMS company, and the best situation is when the service provider sees the problem on its own. This is a higher level of competence, with which we raise the bar.
The customer must want to work in this way and develop products together with us, it should be a company that will appreciate the high quality of service and stay with us for longer. So, in other words, we are interested in building long-term relationships.
How many projects in electronics contract manufacturing have you completed so far?
To date, we have completed several hundred projects. The most flagship project we have implemented in recent years was a telecommunications cabinet for one of the largest suppliers of telecommunications systems in the USA which converts copper Ethernet signals into optics and RF.
When it comes to current challenges, we are approaching the completion of a prestigious project with a large American corporation that will involve the use of IoT devices in public spaces. Implementation into serial production is planned to commence in a few months. The product itself is intended to run in a distributed smart meter network that monitors the state of installation and equipment allowing companies to eliminate service and technical support. We are proud of it because we have implemented a project based on the overall description, and thanks to our expertise, we offered the customer a technical architecture of a definitive solution.
Do you think about automotive companies as potential customers for the future?
We have a plan to develop electronics manufacturing services in the years to come in terms of machine infrastructure, detailed technologies which we will be developing and the competences we want to acquire. The automotive industry is on our radar, but we know that the barrier to enter this market is high due to numerous certification requirements. As we do not want to learn purely for the customer's money, it will be a process spread over several years.
I think that one day we will receive the first automotive PCB assembly project from a customer that will see our potential or will be unhappy with its manufacturing services so far and will decide to try with someone else. There is a lot going on in motorisation today, so the chances of such a contract are growing all the time. Communication issues will continue to be relevant in the coming years, which should also provide such an opportunity in our specialisation.
What is the size of VECTOR BLUE HUB?
We have 80 people who work for us in manufacturing, and 70 engineers in hardware, firmware and mechanical design and development. In total, the company has about 150 employees, which means that we are a medium-sized enterprise. We have 9000 m2 of the back office, 3000 m2 of which is manufacturing plant. The company's turnover is to the order of several tens of millions of euros. On the one hand, it is enough to allow us to accept orders from large international companies, but on the other hand, it does not exclude the possibility of cooperating with small companies and mature start-ups.
Struggling with slow time to market?
We know how to accelerate it! Do not waste your time - contact us using the form below
Who is the perfect model customer for you?
We target companies that expect an above-standard level of service, that is to say, the standard in international relations. These are not necessarily big companies, as mature start-ups are also in our interests. We can offer them a project manager who will be responsible for all the cooperation and engineering staff speaking one common language. Each customer brings a different need or product that we will treat with a similar commitment and initiative as if we were its owner.
Ideally, the companies are from the telecommunications area, including wireless and optical ones, where signals need to be enhanced, converted or where different transmission media need to be combined. This is our largest area of competence. In addition to hardware, we are also involved in the design of mechanics, housing and firmware.
The second area of our specialisation is Internet of things (IoT), understood as devices that communicate wirelessly through distributed networks, often battery-powered, with a long autonomous operation time. In this respect, we have already implemented several projects for foreign customers, including those which are very close in substance to the area referred to as smart metering. This is often industrial and professional equipment, which means that it collects data from production facilities, urban infrastructure equipment and similar devices.
The third area we consider prospective for our development is "techmed". This term includes remote medicine, self-diagnostics, calibrators, and data recorders for medical equipment. This is an "extension" of IoT for the entire group of medical equipment.
The complexity of EMS services is also design, mechanics, and software development. What potential do you have in these fields?
Our engineers have experience in the design of hardware, software and mechanics. When it comes to software, we have a small team in the company, but we are also supported by external services. There are so many programming languages and environments today that it is probably impossible to maintain a cross-cutting development team inside the company at the scale of business we are currently running. No matter what the requirement of a customer is, we can take care of its current needs so that it can focus on the development of its business.
The network of partners we have built for more than 30 years as the VECTOR Group has allowed us to create an extensive ecosystem that guarantees us the highest quality of service. Hence the idea of the company name. We act as a hub, i.e. we combine design and production services, and we use the support of an extensive network of experienced partners.
Do you work for customers from abroad?
The vast majority of project tasks are carried out for customers from abroad, from European countries and the United States. We are still waiting for large and serious tasks from Poland. It seems to us that in recent years the electronics industry has become more mature and many companies have achieved global potential. There are also R&D centres that are being developed and many interesting projects are being created. There are many relatively large companies with their own R&D departments, which gives us hope for the development of this part of business.
What are your 3 most important assets?
The most important one is specialisation, which allows us to offer more added value to our customers and a wider range of services, going far beyond the production service provided by other electronics manufacturers. As part of this specialisation, we combine production with product design and development under one roof. The second one is a faster pace at which the product reaches market maturity than in cooperation with a traditional electronics manufacturing service provider.
This integration of all processes within a single company provides the opportunity to significantly speed up placing a product on the market, as we can overlap many steps. This is not possible when these activities are distributed among different companies.
Our third asset is that we can look at the product as if it was our own, as the owners of the product, and that we can look at it like engineers who are in contact with modern technologies on a daily basis and know what is on top of the trends and what is no longer in use.
We are not afraid to show the customer the shortcomings of its product, because we know that we both share the same goal. We are also not afraid to show that something can be done better and faster. We set transparent conditions for cooperation. Transparency does not leave us any room for understatement and ambiguity; this mixture eventually ensures the customer is in contact with an open, flexible and honest partner.
Włodzimierz Babś, General Manager at VECTOR BLUE HUB
In the era of the pandemic, the importance of this latter factor is crucial because many companies encountered problems with the availability of components, eliminating less popular types from production and the frequent need to upgrade or rework hardware. We welcome customers to come and share a problem to which we can find a solution and not only a simple order.
Interview by Robert Magdziak
Elektronikab2b.pl