Telecom electronic manufacturing services – trends and our portfolio
Date of publication:
21.07.2021
It should be of no surprise that global telecom Electronics Manufacturing Services (EMS) are now in high demand. Television and the Internet connect us all – people, machines and companies worldwide – based on smart electronic and telecom products. Consumers' choices continue to redefine the Information and Communication Technology (ICT) industry in terms of safer, more accessible and faster methods of communication.
Simultaneously it raises a need for reliable electronics manufacturers. Therefore, if you are seeking a specialized telecom EMS in RF and related wireless communication technologies, for example, 5G repeaters, then you are in the right place. Read our story, become familiar with our references and discover where our brand name comes from!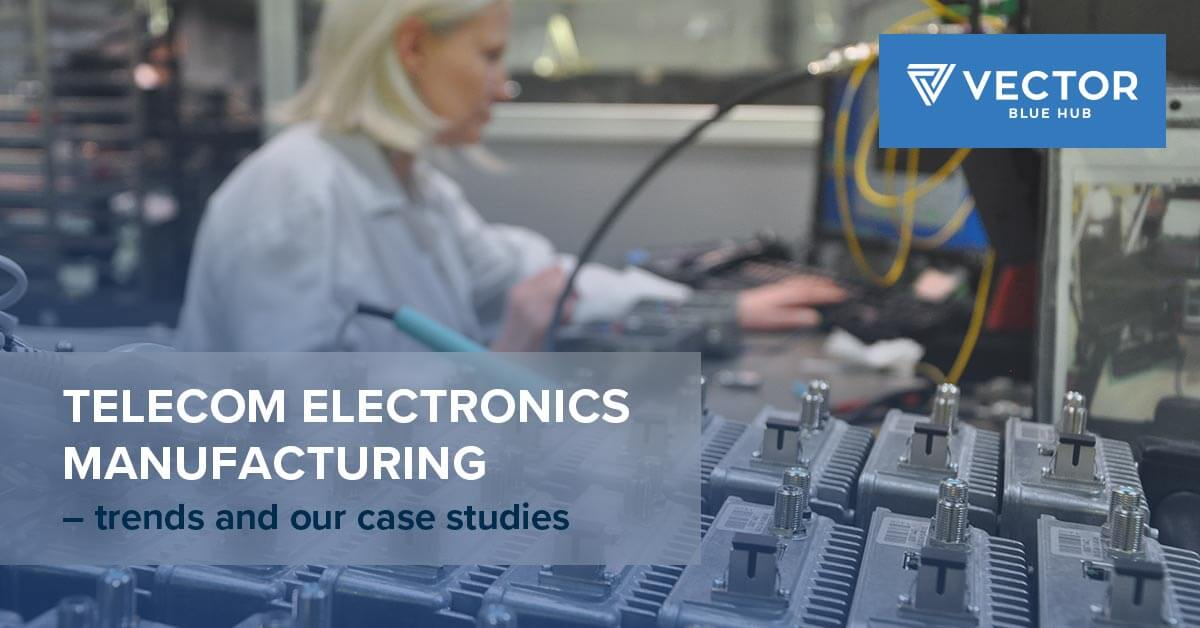 Exploring electronics manufacturing in the Information and Communication Technologies (ICT) sector
The development of information technologies is the foundation for the growth of the ICT sector and the entire economy as well as society. In the era of the Industry 4.0 revolution, communication technologies are one of the key sectors for future growth. ICT today is ranked as one of the largest industries worldwide, and the telecommunications segment generates the highest revenue. On the other hand, big data, IoT and cloud technologies will be key trends in the ICT sector, maximizing the impact of digitalization.
But how we can define digitalization in terms of manufacturing telco electronics? Simply put, the growing demand for data processing in any area of telecommunication equipment applies pressure on operators or infrastructure owners to adjust their infrastructure and the whole data transfer ecosystem. Further, the exponential increase in the data generated by appliances also underlines the need to process data closer to the source to reduce the costs of sending large volumes of upstream traffic. As a result, huge amounts of data are available in the networks every day, which operators have to process. With it, in the field, hubs, headends and data centres, comes thousands of electronic hardware devices used for various telecommunication purposes, such as: switches, routers, RF transmitters, transceivers, 5G repeaters, fiber-optic devices, remote radio head products, and much more.
What about total spending on electronic manufacturing?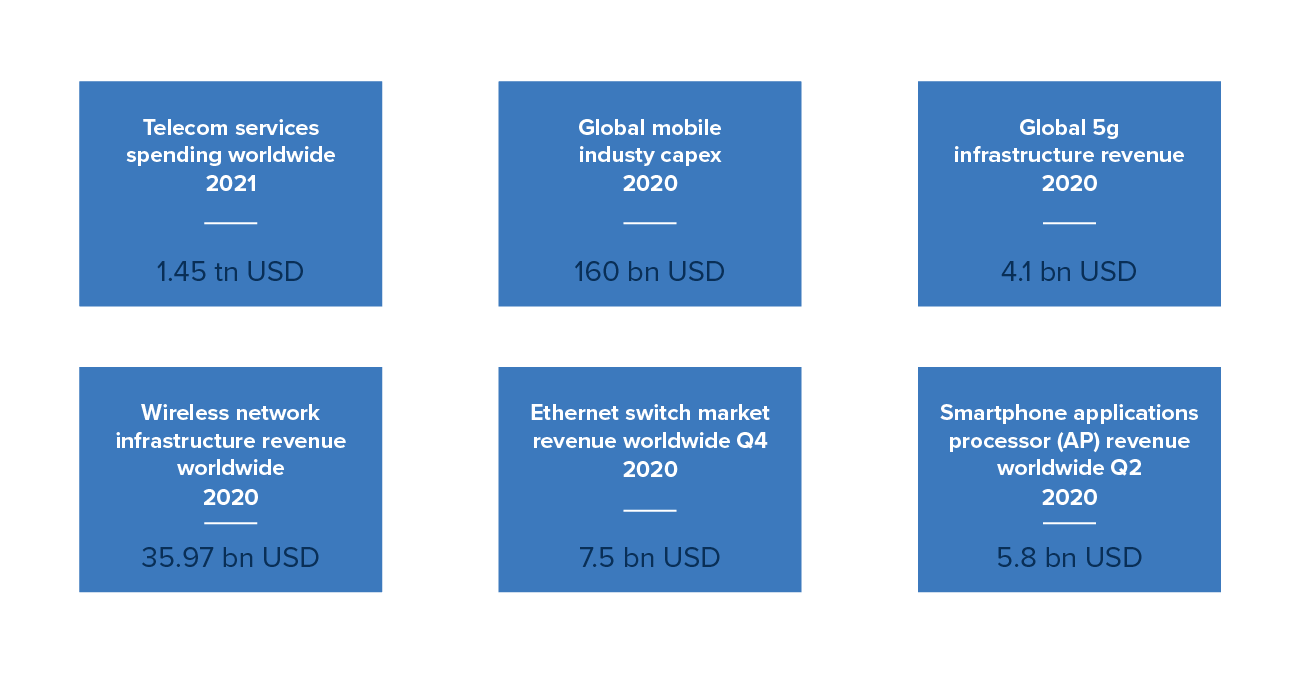 Global spending on telecom electronic manufacturing. Source: https://www.statista.com/topics/2844/telecommunications-equipment/
In contrast to many other industries, the telecom electronics manufacturing sector has not been particularly affected by the economic effects of the coronavirus. The greatly heightened demand for digital services allowed companies in this sector to meet their business plans for 2020. This year, however, many contract manufacturers and original equipment manufacturers (OEMs) are facing some challenges in the supply chain due to shortages in raw materials. Consequently, maintaining continuity in the supply of semiconductors and passive and electromechanical components will remain difficult for an uncertain period of time.
For more insights about electronics components shortages, check the Alike article.
Curious about how to optimize Total Cost of Ownership (TCO) for telecom manufacturing?
Get a free TCO analysis! Fill the form and we will contact you within 48 hours
Global Telecom EMS market – forecast
One available report predicts that the telecommunication electronic manufacturing services (EMS) market will reach over 230 billion dollars by 2025 on a global scale. As a comparison, the current market's worth is estimated at over 155 billion dollars. That only confirms how in demand wireless communication products, e.g. radio frequency identification devices (RFID), and other equipment that affect any aspect of daily communication using smart electronics have become.
Also, multiple-system operators (MSO) are constantly challenged to meet customers' needs while offering more robust and flexible services when it comes to uninterrupted Internet access and high demand for fast broadband speeds. Operators are forced to look for new ways to introduce new innovative services and offerings more agilely without compromising network quality and impacting their budgets too heavily.
What are the main reasons for the growing demand in the telecommunication industry?
Hybrid work model and entertainment. People spend the vast majority of their time at home. As a result, operators add new products to their range, e.g. free access to platforms with video content or additional Internet packages. Use of such services relates to bandwidth load. Also, people are now more active in social media. They use more electronic devices, download more Gb of data, engage in online shopping, while platforms with online games or OTT platforms such as Netflix are fully occupied.
Business operations and landscape. The amount of online training, live chats and webinars have increased significantly. Thus an online event with the participation of a dozen or more people creates the demand for access to an efficient network. On the other hand, more cities and local authorities have started to build smart cities within their landscape, resulting in thousands of links within the infrastructure – small cells, Wi-Fi access points, sensors to collect data, and much more.
Fixed wireless access. Previously the telco operators footed the bill for network transformations while OTT platform owners harnessed the Communication Service Provider (CSP) infrastructure without paying a fair equivalent for it. This time we can be sure that operators will be looking for new business opportunities and utility networks for small cells related to 4G and 5G rollouts.
Reliability and quality as two primary factors in electronics contract manufacturing
Here, we come to the point where all of the above leads to the conclusion of how crucial and vital reliability and quality are in producing goods for the telecommunication industry. Each and every original equipment manufacturer (OEM) is incredibly sensitive and careful when choosing an EMS partner. As a company with a long history as an OEM, we have experienced all the pains and gains of manufacturing electronics – partners missing deadlines, designing low-quality products, and working with an inflexible approach. Applying all the knowledge that we have gathered, we can now support our customers as a specialized EMS that treats their products with the same level of commitment as our own.
What does this look like when it comes to practice? We asked Daniel Żywalewski, who works in the CTO Office and develops the company's strategy for using technological resources, to share his thoughts on manufacturing telecom equipment.
When I think about products involving communication technologies, two words come to mind: reliability and quality. And this is mainly because these products or devices have a crucial role to play in communication systems, meaning we must rely on them and be sure they meet the required level of quality
Daniel Żywalewski, CTO Office
Product quality, in other words, is the level of product excellence and its ability to meet the customers' needs. In contrast, reliability is the ability of the device to operate and maintain its quality over time and under specific conditions. Here's where the famous five-nines come from – the equivalent to no more than five minutes' worth of planned or unplanned downtime per year. Therefore electronics manufacturing companies must distinguish between the functional requirements, such as technical parameters, and the non-functional requirements, including regulatory and ergonomic needs, in striving for the best results in final product availability.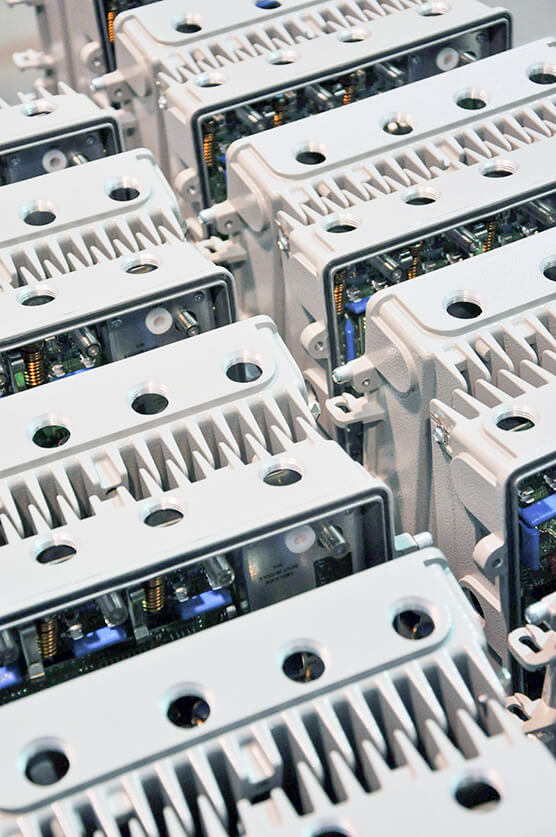 Telecom Equipment Manufacturing - volume production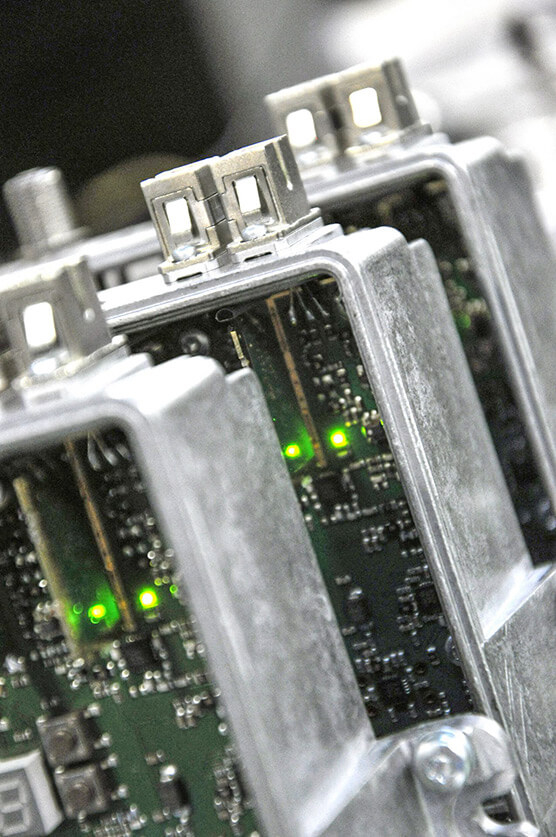 Telecom Equipment Manufacturing process - quality control
"Printed circuit board assembly (PCBA) might be, thus, a challenge, but not for a specialized EMS company. With a qualified team having a PCB Assembly engineer on board, the process should go smoothly", follows Daniel.
Manufacturing telecom equipment from a design perspective
"First, we must understand the requirements – not just those crucial from the system point of view, but other aspects as well (such as where and how it's going to be mounted, under what kind of conditions will it operate, and what about the installation process). So the conception phase preceding the development stage is crucial because it's very difficult to implement changes in the middle of the design process," explains Daniel.
Indeed, when we talk about manufacturing electronics based on communication protocols, we have to strive for excellence at every stage – from design through prototyping, testing, assembly and maintainability. Therefore, following the Design for Excellence (DfX) is a pillar activity of a specialized telecommunications EMS. By establishing Design for Manufacturing (DfM) procedures, we can address all issues at an early phase and be sure that the product is easily and economically manufactured. As a result, a contract manufacturer with design and manufacturing services under one roof can significantly reduce the time of the whole industrialization process and optimize the costs.
See the whole video with Daniel's insight on manufacturing electronics for the telecommunication industry below:
VECTOR BLUE HUB roots – manufacturing electronics for the most prominent telecommunication players
Not many European EMS companies have designed and provided printed circuit board assembly services for telecommunication equipment for over 25 years. VECTOR BLUE HUB has its roots in manufacturing advanced telecommunication solutions for the world's leading telecommunication operators, being a part of the VECTOR Group – a privately owned ICT company delivering advanced electronic devices and systems to the most prominent telecommunication and data centre operators, broadcasters and energy companies. The network of technology partners and suppliers we have built up over the years has allowed us to create an extensive ecosystem to respond to every challenge in the EMS world.
That's where the idea of the company name come from. We don't act like a typical factory or design house. We act as a hub – we combine design and production services, and we use the support of an extensive network of experienced partners. What about the "blue" part? Simply, the blueprint represents an engineering sketch, which refers to our design capabilities and our mission of bringing products to the mass market from idea to reality.
RF and related wireless communication technologies: what we have already designed and manufactured?
State of-the-art compact optical node (fiber to copper, copper to fiber converters) designed for distributed access architecture
FPGA based hardware acceleration of network functions of CPUs
CWDM optical transmitters
low-noise optical broadband receivers and amplifiers
Power PC based high-performance WiFi access points
broadband and narrow band microwave amplifiers
highly linear RF output stages
analogue frontends for transceivers
DVB-C/T receivers and transmitters
DDS based multichannel broadband modulators (XILINX K7)
software based video multiplexer
multichannel digital broadband upconverters (XILINX K7)
19' 1RU/2RU signal routers
19' 1RU telecommunication modulators
MPEG video HW based decoders
communication systems for controlling field equipment (ISM radio, cable, GSM and LTE)
2x10GbE-fed software radio frontends based on Altera A1150 and high-performance DACs (12Gs/s) and ADC (1Gs/s)
… and many more.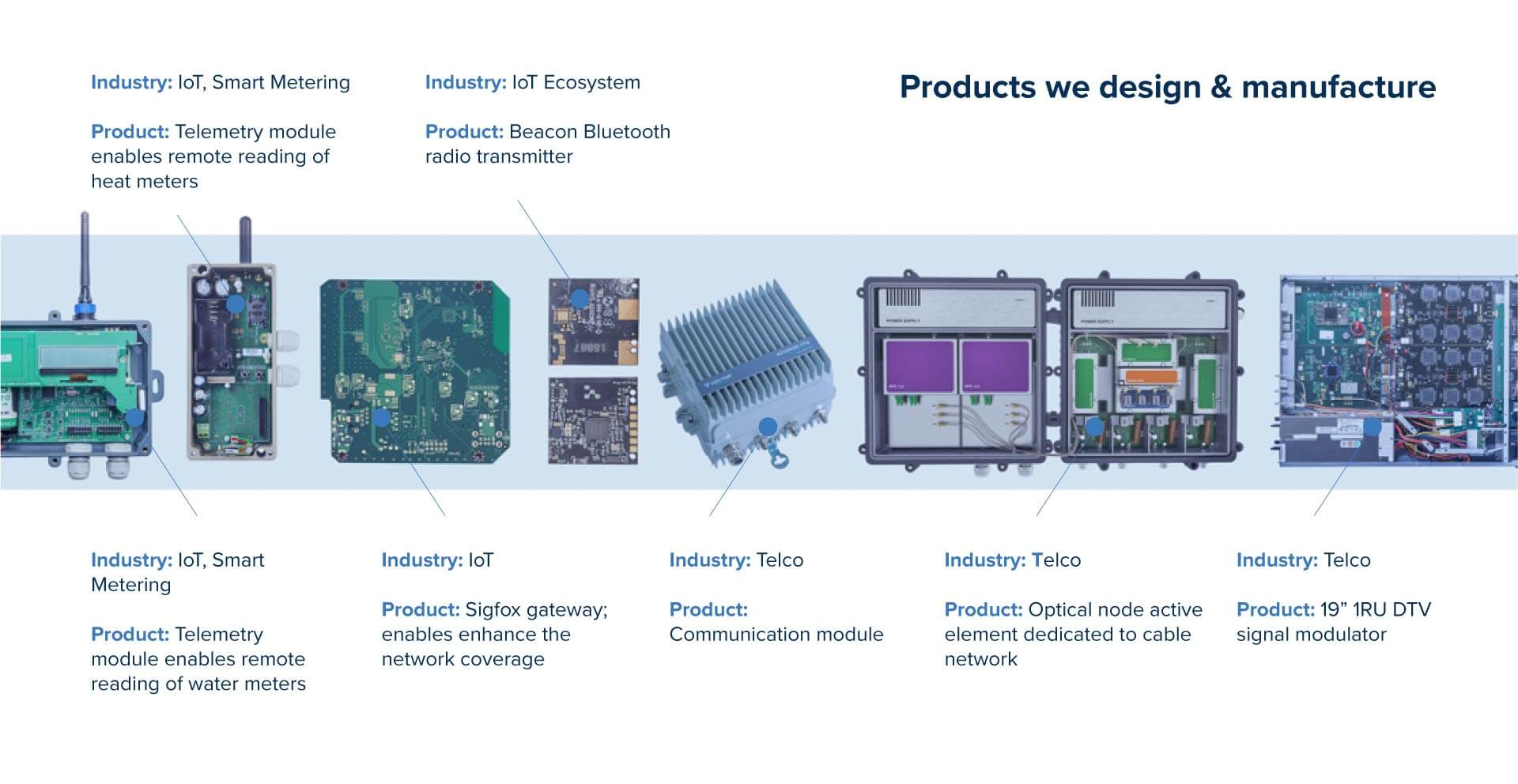 Telecom equipment manufacturing - products we design and manufacture
Uniquely, each customer brings with them a different story and a product that we treat with the same level of commitment and sense of ownership as if it was our own. Ultimately, the customer decides whether they want an end-to-end electronic manufacturing service or simply selects between those that suit them best at the time.
Our complete portfolio includes Design for Excellence (DfX), printed circuit board assembly (PCBA), test and functional test, new product introduction (NPI), box-build, product certification, sourcing, and supply chain management solutions.
With hundreds of engineers on board and a manufacturing plant based in Poland, we act as your close partner in electronics manufacturing services within:
RF hardened and rugged devices
customized high-performance computing equipment
4G/5G repeaters
fiber-optic devices
remote radio head products
... and many more.
Choose specialized EMS in RF and related wireless communication technologies
Contact us for non-binding consultation!
Telecom electronic case study - a state-of-the-art compact optical node designed for distributed access architecture
Multiple system operators (MSO) are constantly challenged to meet increased bandwidth demand while offering more robust and flexible services. Transformation towards gigabit speeds in fixed-access networks is now a reality. Cable operators are replacing analogue optics with digital optical solutions and migrate to distributed access architecture (DAA) to create a whole new interoperable environment for next-gen access networks (NGN).
DAA moves the DOCSIS PHY layer into the digital fiber node, and the optical links between headend and node become digital. The significant advantage of this approach is a much better performance in the plant. What are the pros for the operator? Better scalability and flexibility, interoperability and less so-called "big iron" in the headends and hubs.
Together with our workmates from VECTOR TECHNOLOGIES, we have developed the compact Remote-PHY node for one of the Tier1 telecom operators. The electronic device was bottom-up designed to fit in the distributed architecture and allows the operator to install fiber deep into the HFC network, moving the node closer to customer locations. As a result, the solution enables the world's leading telecom operator to fulfil their 10G network roadmap, delivering the next great leap in speed, capacity, and low latency.
The Remote-PHY node is ideal for field operations where space is limited and can be placed on a pedestal or in a building cabinet. This modern device with low power consumption is distinguished by a compact housing and can be used in various network applications. As a truly intelligent, remote RF managed node, it accelerates and automates installation configuration and service quality.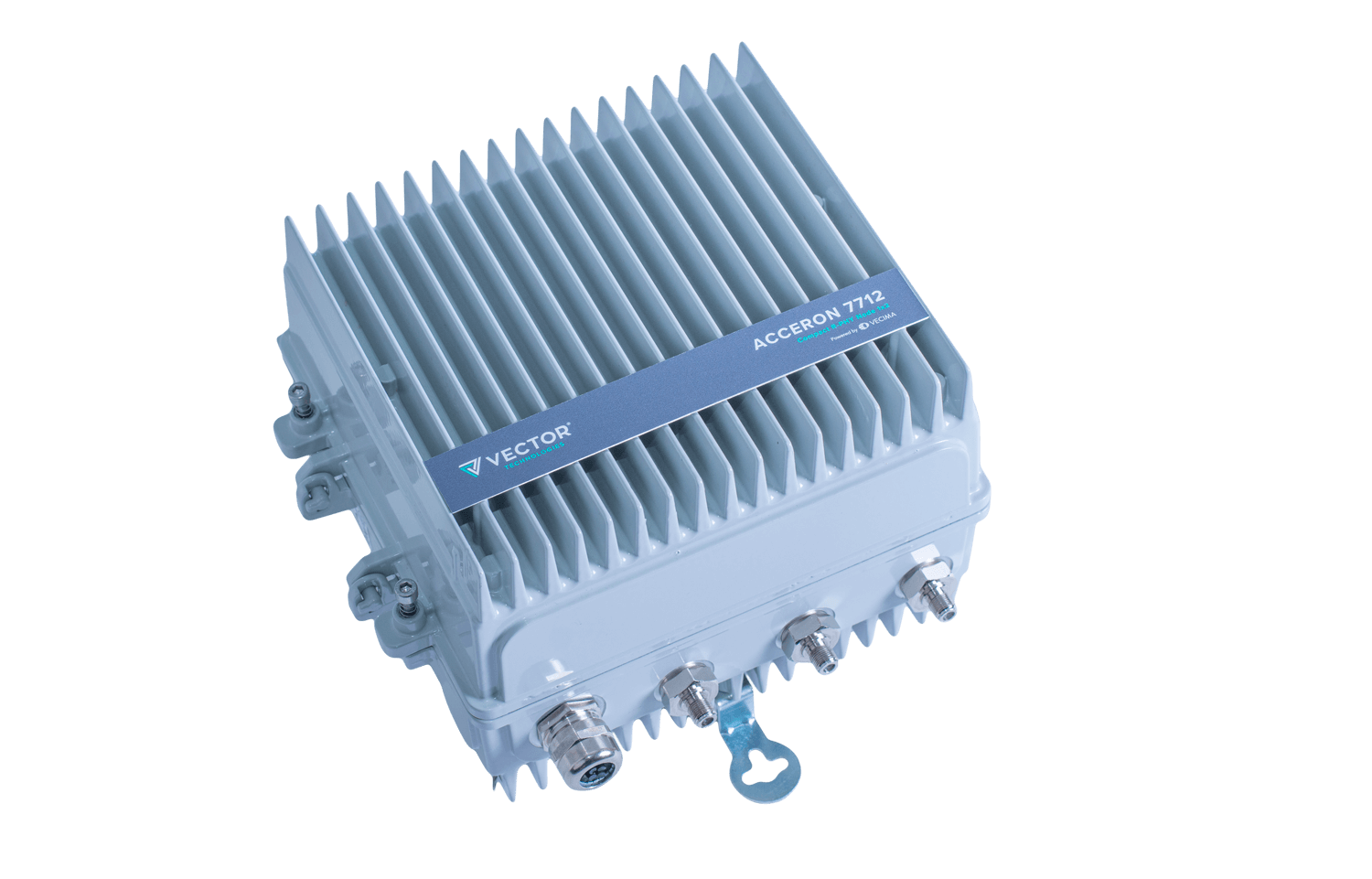 Compact Remote PHY Node - hardware
What our team did:
PCB design
interoperability testing in our dedicated RF environment
surface mount of components
PCB assembly
box-build
establishing a new product introduction (NPI) process
volume production
We are proud that VECTOR BLUE HUB is one of the companies that design and manufacture electronics for Tier 1 telecom operators. Therefore, if you seek an experienced EMS team for your telecom device, contact us for a non-binding consultation. We will share with you our current good manufacturing practices and tips on how to optimize your TCO.
Besides the telecommunication sector, we also specialize in electronics manufacturing services in the field of industrial Internet of Things (IoT) and the medical sector. Here you can read more about our case studies: