Supply chain management challenges - seven tips to mitigate risk
Date of publication:
11.03.2021
The pandemic has irrevocably changed the role of supply chain management (SCM) in manufacturing electronic devices. The coronavirus outbreak has exposed all weaknesses of the supply chain in maintaining production continuity and providing component availability. Many companies pursued a business continuity plan to reduce the risk of not keeping to agreed lead-times, but some contract manufacturers were too late to act.
Unexpected situations in global supply chains are inevitable, not only those due to a COVID-19 outbreak. The key to avoiding possible disruptions is acknowledging them long before we start to experience any harmful effects. How do we do this? Here are seven of the most transferable actions you should take to mitigate risks and strive for the efficient supply chain management.
Supply chain definition: What is a supply chain is and why EMS company need one
Before we start, let's define what a supply chain is. A reliable electronic manufacturing services company have a long-standing relationship with its suppliers. The reasoning for this approach is simple - without a positive relationship with the supplier, the whole manufacturing process can experience unnecessary miscommunication and disruption.
Modern and responsive supply chain management embraces not only sourcing, logistics, and production cycle but also sales, operations management department, engineering, and even marketing. As a result, the supply chain objectives focus on the processes of an entire organisation, including every stage from the supply of materials, the manufacturing of goods, to their distribution and sale.
When customers pay outright for the hours spent on a particular project, they want to reduce the risk of prolonging those hours through the advent of random and chaotic events. This can be prevented by having a suitable logistic & supply chain management (SCM) process.
The first quotation can sometimes be crucial to make a decision to go ahead for manufacturing electronics. If the quotation is attractive but does not include the cost of logistics, customs, and other supply chain hidden calculations, the next meeting with the customer can be very...challenging. That's why accuracy and reliable offers from the supplier at the outset are vital.
To stay competitive, it is advisable to aggregate high volume orders to a smaller, albeit reliable, number of suppliers. Then, the electronics manufacturer leaves space for negotiation to receive a better price for electronic components and does not only settle on the Minimum Order Quantity (MOQ).
On the other hand, it is not advised to rely only on one large supplier. Supply chain diversification gives freedom of choice to be well prepared for any disruption the market may bring. Keeping the balance between reducing TCO and ensuring production continuity should be a supply chain objective in the long-term strategy to improve the quality of the customer experience.
Supply chain management goals
Whether we take small, medium or large players into consideration, successful supply chain activities cannot be taken for granted based only on an established process. Behind every relationship with the customer stands a savvy team that communicates to sales about any supply chain disruptions, stock levels, or limited purchase amounts.
The profession of sourcing and supply is broad in scope, and every electronic manufacturer has its own approach. However, we can distinguish between two essential departments: strategic and operations, also known as a yin and yang of a successful supply chain.
Supply chain management (SCM) roles and responsibilities
The strategic team in the supply chain management develops the purchasing strategy in a given assortment and is involved in the selected strategic projects. Knowing all the assumptions of a given project and lead times, they decide with whom to place the purchase order. Finally, they support the operational buyers to choose the right replacement when disruption occurs.
The operations team in the supply chain management is responsible for the delivery of the contracted electronic goods within the agreed time. The team regularly contacts the supplier and ensures the component's availability before mass production starts. Also, the operations department seeks replacements with the help of strategic buyers in global supply chains and engineers who have a strong technical background.
Supply Chain Manager/Director develops and monitors a company's global supply chains. Supply Chain Manager is responsible to improve productivity and ensure an uninterrupted flow of goods, and reduce costs while securing high-quality material in the product development process.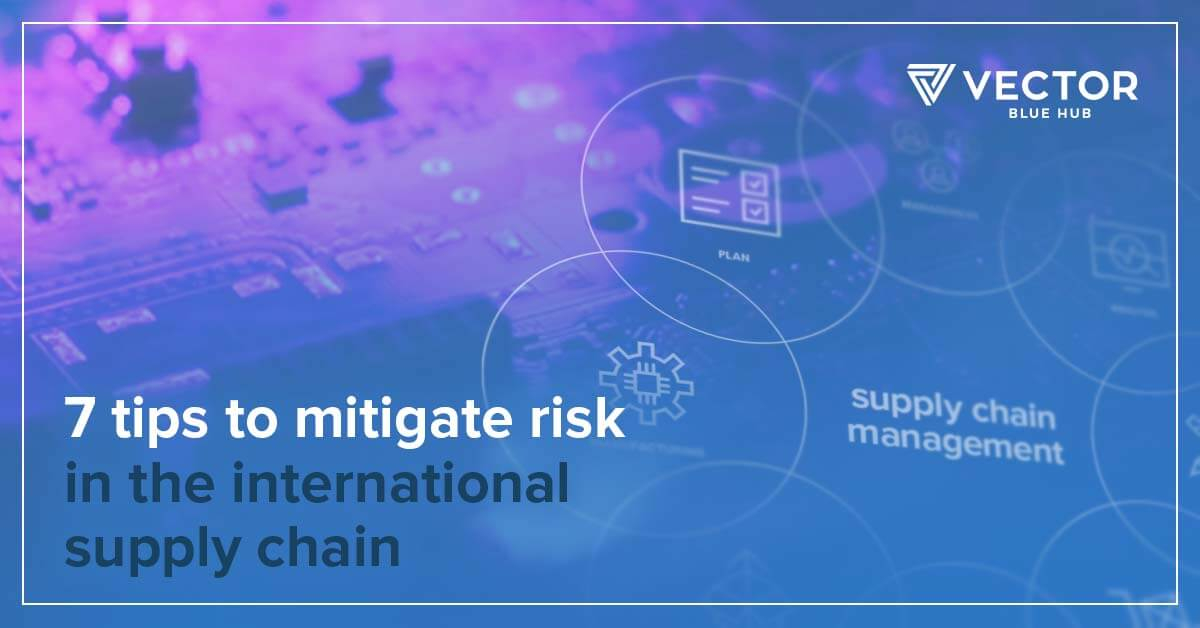 1.
Ensure production continuity and uninterrupted flow of goods

The coronavirus pandemic has exposed weaknesses in the supply chain for electronic goods and services. Many OEM manufacturers have had to face new challenges in maintaining production continuity, component availability or sufficient risk management throughout the supply chain. Customers are paying increasing attention to having a partner who can ensure production continuity. Firstly, regardless of the EMS provider production capacity, it is vital to maintain optimal continuity of the production processes by having the key components on hand, right after winning a particular project. As a result, the contract manufacturer unlocks the possibility of buying more commonly available components on short lead times and mitigating the risks of delay.

In order to maintain the optimal continuity of the goods and services, an EMS provider should also consider the benefits of buying more bare printed circuit boards (PCB's) and other key components in advance. Stocking inventory might be a strong competitive advantage by ensuring a reliable supply chain.

Of course, there is another crucial activity in supply chain management – purchase order monitoring. It begins once a purchase order is created, to avoid discrepancies in dates and their impact on the subsequent processes. Observing deviations at an early stage allows the electronics manufacturer to easily implement a preventative plan to ensure the deadlines are met.
2.
Work with qualified suppliers and build a partnership relation with them

Cooperating with qualified suppliers to ensure high-quality deliveries on time requires significant effort right from the beginning. An electronic contract manufacturer sometimes needs to redefine its internal processes and undertake research processes to establish a strategic plan that acknowledges what they really need from a supplier. To fulfil the process of seeking a qualified supplier, to build general and resale agreements with them. What for? Simply put, having clear agreements between supplier and electronics manufacturer allows effective resale of unused component stocks. This can resolve any problems when the actual demand is lower than forecasted.

Something else worth noting is staying up-to-date with market information through continuous monitoring. If we know what is happening in the market, we can react immediately to reduce the market risks and control the actual lead times. A company develops because it monitors and measures, and then after every turnaround it becomes smarter, more agile, and more experienced. Therefore it is important to remember to monitor supply chain KPIs and to measure all such key metrics as component quality, on-time delivery, payment conditions and lead times. The latter is crucial to maintain the agreed conditions with the customer.

A reliable supplier is a remedy for difficulties in the supply chain when taking costs and lead times into account. How to choose the right supplier? Establish a Supplier Introduction Process, Quarterly Quality Assessment and Annual Supplier Assessment to vet a potential company in terms of its organisational capabilities and stability. Also, before you add a new partner to your qualified supplier list, check all the necessary quality assurance aspects and carry out technical vetting in terms of RoHs, certificates, REACH, or UL. The better result you get at the end of the performed inspection, the lower risk of non-conformities. After all, remember to audit suppliers at least once a year to have authorised distributors who guarantee consistent quality.

Many companies showcase customer references and present their case studies. Of course, a strong portfolio of successful and completed projects with satisfied customers builds an EMS company's creditability - without a doubt. However, it is also essential to get acquainted with the processes that determine the project delivery from the customer perspective. Process cushion business, while maintaining lead times in contract manufacturing, is now more desirable than ever. Workflow control ends up with space for improvement. If the client cooperates with a company that sticks to processes, they receive a simple message which suggests that they are dealing with an organisation that focuses on continuous improvement.

3.
Have a local and global supply chain base

Currently, the whole electronics industry struggles with extended lead times. A greater number of companies are withdrawing from manufacturing in China in favour of European partners. Not only the demand for semiconductors, passive and electromechanical components is overheating, but the prices of these tiny little chips are also rising. In this respect, the post-pandemic reality has not been very kind to Original Electronics Manufacturers (OEMs), although it is worth noting the breakthrough in market forces between Europe and Asia. Chinese competition stops winning only thanks to a low prices. The critical shortage of containers has increased shipping costs and caused delays in deliveries.

To avoid the situation of sticking to a few global suppliers, and whereby have no relations with any other partners, it is advisable to source new alternatives. Active Sourcing is the key issue to protect production continuity and to keep up with the market. Knowledge about local suppliers and cooperation with them is a godsend in cases of such things as machine casting, packaging or printing stickers. These works are not profitable when shipping to a global supply chain contractor. Therefore, it is good to have both an international supply chain to continually reduce TCO and local contractors to act quickly on small design projects. Much depends on the lead time - the key is to start the assembly on time.

It's also worth noting that the electronic manufacturing services company that keeps designing and mass production under one roof has better access to Tier 1 suppliers. Therefore, with a large purchase volume, it can negotiate lower prices. Simply put, if the contract manufacturer is responsible for managing the project from A to Z, it can influence the final choice of the ordered components.
4.
Reinforce incoming goods inspection to minimise non-conformance

Quality management in supply chain management (SCM) provides you with the assurance that your product meets the market needs and standards and works following necessary requirements. Introducing incoming goods inspection allows for constant control and monitoring of standard operating procedures, leading to minimising non-conformance. The deviations can usually be identified through internal and external audits or, in the most unwanted scenario, customer complaints. To reduce the risk of deliverables that do not meet the specification, you need:

What's more, when working on the ERP system, everything is transparent. The system is integrated with the warehouse, and you have the ability to ensure constant quantity control. You can predict the threats and react quickly. An automated supply chain seemingly the way forward considering today's reliable electronic manufacturing services companies. When the market changes, along with the people and their customs, the process of designing or manufacturing must remain reactive.
5.
Develop strong supply chain skills in logistics and shipments

Logistics management can plan, implement and control the flow and storage of goods, services and related information between electronics manufacturers and customers. The complexity of logistics in the global supply chain is tending to grow rather than diminish. This adds vulnerabilities that can arise from a number of disruptions like transportation failures. Only a savvy logistics team can conduct the shipping process to secure the lead times and be prepared to react in case of an emergency.
6.
Be transparent in your supply chain network

Acknowledge the human factor in the supply chain process. Never rely on guesses and do not leave any space for communication gaps.

Be transparent and inform the customer about any deviation in the supply chain, especially regarding low stock. The sooner the better when it comes to finding alternative ways to resolve any problems.

Be transparent and notify the supplier of the customer requirements so that the supplier (knowing the importance of any cooperation), will be able to find the best possible solution to keep the supply chain undisrupted.

Also, be transparent with your supply chain management team about any risks and problems. Build an internal culture with employees that will translate into an external relationship within the supply chain ecosystem.
7.
Last, but not least – keep your eyes open!

For the details, for any deviation in the supply chain management (SCM) or information that the market shares. It is possible to seek replacement parts and to establish forecasts beyond the 6-month period, securing critical and problematic components during these uncertain times.

Quick and effective decision-making in supply chain management (SCM) can be key to ensuring we react flexibly to changing market needs. At VECTOR BLUE HUB we strive to build and efficient supply chain. We closely monitor any changes in the market and stay up-to-date with the relevant news in global supply chains. As an experienced partner, we nurture relations with suppliers to gather early information from the market and support from the supply chain ecosystem. As a result, we can react immediately to changes in terms of:
Firming-up forecasts and orders for the most critical parts where lead times may increase
Negotiating safety stocks and secure availability of parts with suppliers
Recommending alternative suppliers/manufacturers to minimize availability limitations
If you struggle with any supply chain problem for electronic components, or simply want to discuss some other supply chain challenges, contact us!